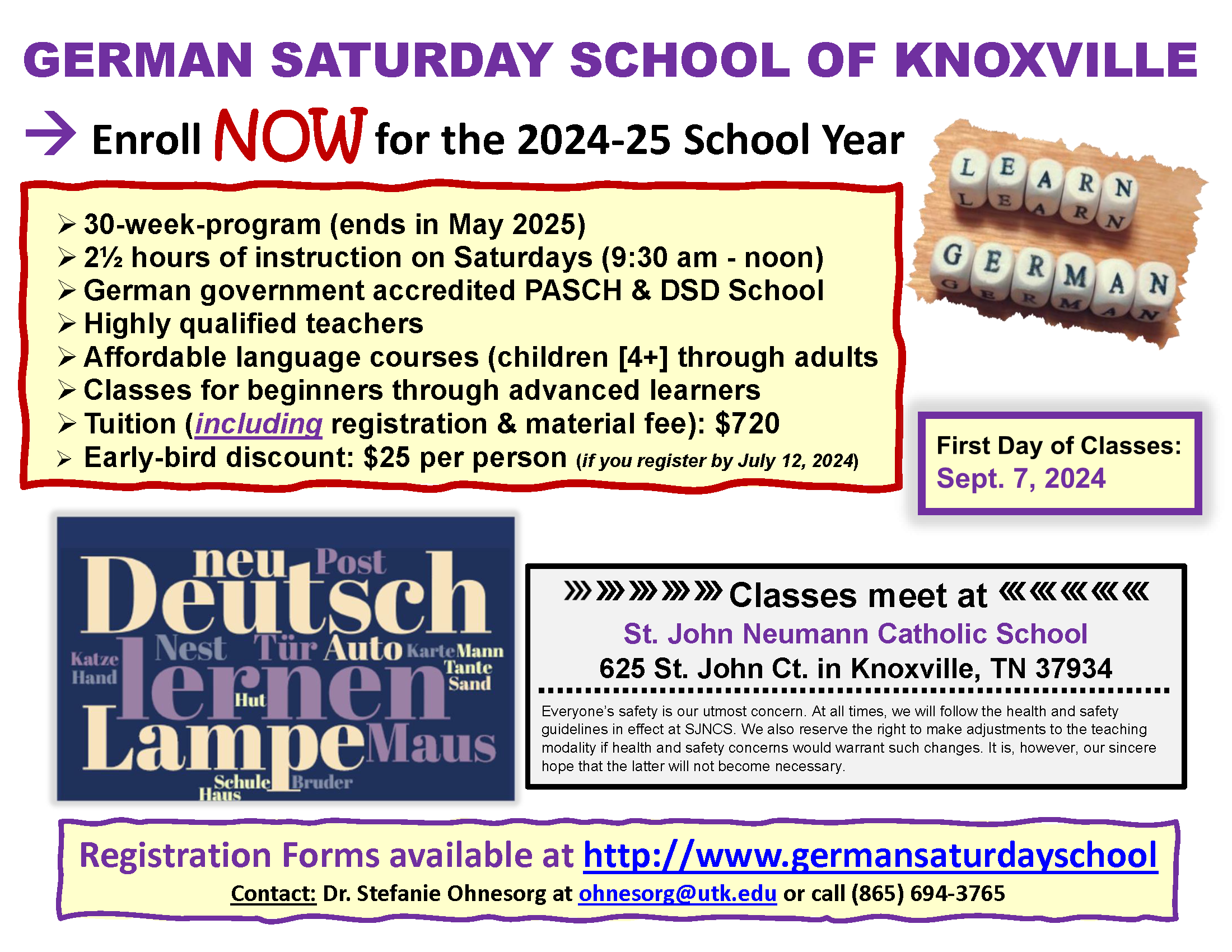 The 2022-2023 registration forms are now online!
The German Saturday School of Knoxville (GSSK) is a Saturday morning school open to all students who desire to learn German or enhance their German language skills. The GSSK offers classes for children (starting at pre-school age), teenagers, and adults at various proficiency levels, ranging from beginners to native-speakers. We offer our students a unique learning experience by combining German language instruction with cultural enrichment activities that broaden their appreciation and awareness of the many cultural facets of German culture.
Our school year consists of 30 weeks and follows roughly the holiday schedule of the public schools. Classes meet at St. John Neumann Catholic School, 625 St. John Ct., Knoxville, TN 37934.
The German Saturday School for the Greater Knoxville Area is a non-profit organization founded in May 2004. The GSSK is governed by a board of directors, consisting of educators, parents with children in the school, and other professionals. In early 2009, the German Saturday School of Knoxville was invited to become a member of the "Partner Schools for the Future Network" (PASCH) a worldwide network of approximately 1,500 partner schools that share a similar curriculum, administer standardized German language exams like the "Deutsche Sprachdiplom I & II" (German Language Diploma I & II), and encourage their students to take an interest in matters related to modern Germany and its society. PASCH is an initiative of the German Federal Foreign Office in cooperation with the Central Agency for Schools Abroad (ZfA), the Goethe-Institut (GI), the German Academic Exchange Service (DAAD) and the Educational Exchange Service of the Standing Conference of the Ministers of Education and Cultural Affairs of the Länder in the Federal Republic of Germany (PAD). The GSSK is also a member of the German Language School Conference (GLSC).
The German Saturday School of Knoxville admits students of any race, color, creed, national and ethnic origin, and sexual orientation to all the rights, privileges, programs and activities generally accorded and made available to students of the school. It does not discriminate on the basis of race, color, creed, national or ethnic origin, and sexual orientation in administration of its educational policies.
Our Snow / Inclement Weather Closing Policy is as Follows: All School closings will be posted on our website and announced over the GSSK hotline by 7 p.m. on Friday (= the day prior to a school closing due to inclement weather). HOTLINE ==>(865) 694-3765
Updated 07/15/2022